Customers are looking forward to what will be one of the best beer selections available ever at Dorchester Beerex this year, organised by West Dorset Campaign for Real Ale (CAMRA) and Casterbridge Rotary. The popular festival sponsored by Palmers brewery of Bridport takes place in the Corn Exchange on Friday and Saturday of February 7th& 8th split between lunchtime and evening sessions.
This year see's a slightly different approach to the evening sessions with light acoustic music provided on the Friday evening allowing conversation to flow and a band on the Saturday night for the full party atmosphere.
This year's principle good cause will be Dorset Mind which deals with mental health issues in the young and as always a raffle takes place at all sessions raising funds for the Dorchester Youth & Community Centre on Fordington Cross.
There is still time to sponsor a barrel if you're a local company or an individual please contact the festival sponsorship coordinator Dave Harris on 07977918130 and he will forward you all the details you need to be part of one of Dorchester's premier fund raising events.
As with all West Dorset CAMRA festivals  Rich Gabe sources the beer and this year promises to bring in around 50% of the breweries  exhibited  never seen  at the festival before with such delights as  Derbyshire brew-pub Boot brewery with a chocolate & coconut Porter "A decade of decadence", Revolutions brewery of West Yorkshire "Swoon", a chocolate fudge milk stout alongside Ipswich's Dove Street brewery's powerful 6.6% Ipswich IPA.
Local brewers will be represented including the full Palmers range, Copper St Brewery of Dorchester with their 8.5% Imperial Russian stout, Small Paul's from Gillingham with a golden 7% barley wine especially brewed for the festival. On the lower ABV side of the spectrum we will have Big Smoke brewery Solaris Pale ale from South London, Jolly Sailor from North Yorkshire with their traditional Yorkshire Selby Bitter and from Manchester's Black Jack brewery a single hop Mosaic Light Ale.
Rich Gabe said "Every year i like to give customers new breweries and flavour combinations they may never have tried or seen before  and this year there are a lot of breweries that are here for the first time. Customers can expect a variety of styles from session Pale Ales and Bitters to heavily hopped IPA's then on the dark side Mild's, Porters and Stouts"
A varied cider and Perry selection from Alex Bardswell includes a popular Dark Spice cider from Twisted at Longburton, great in the winter months and a new one, Bubblegum.  Another Dorset producer, Joe of Purbeck, has his Katy Perry, a pear and apple Perry, and Bushey Berry, a lovely mixture of cider and sweet berries.  From Somerset is a new cider to Beerex, Honey's ginger; and also the well known and loved Burrow Hill, plus the excellent Hecks Blakeney Red Perry.  Coming in from other counties, Ross-on-Wye Whisky Oak cask, and Celtic Marches Ruby Tuesday and Lily the Pink. If fruit cider isn't your choice, at least half the bar will have a choice of local and regional dry, medium and sweet ciders.
The festival is split into lunchtime and evening sessions, entry is priced at £10 and customers receive a commemorative festival glass, colour programme with full beer listing notes and 2 half pints of beer. CAMRA members receive an extra two halves.
Tickets will be on sale from the following outlets.
Dorchester: The Convivial Rabbit, The Bakers Arms and the Brace of Butchers, Poundbury.
Weymouth: The Dog House micro pub (Great George St)
On line via www.camrawdorset.org.uk  which includes postal sales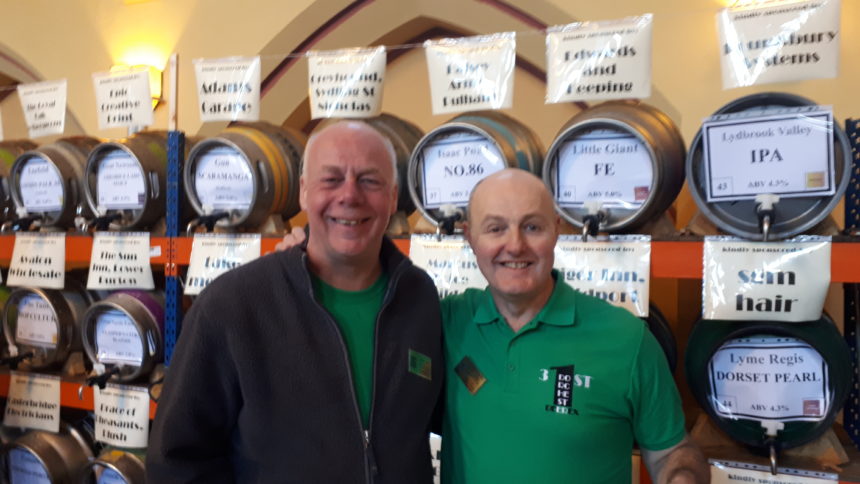 Picture shows committee member Phil Livesay and Dave Harris Sponsorship Coordinator