Last week a local mum partnered with Weymouth Rotary Club to send a really positive message to parents, teachers, and children. They did this via a free copy of a very special book and an encouraging letter, sent to all local primary school Head Teachers.
Here is the letter as well as some further helpful information.
Dear Head Teacher
On behalf of the members of Weymouth Rotary Club I am pleased to enclose a copy of the book 'Break the Mould – How to take your place in the World' by Sinead Burke. Please feel free to use it as you see fit – but at the very least we hope it will be a useful contribution to your school library.
You might also be interested to know that the author appeared on the front page of and featured in one of the Sunday colour supplements recently. She likes to call herself one of the 'little people'. For further information look her up at https://www.sinead-burke.com and see our attachment.
Siobhan Lennon-Patience, whose idea it was for us to donate copies of this book to local primary schools, explains:-
"Just like the author of this book, our son Lorcan has achondroplasia, the most common form of restricted growth or dwarfism. Lorcan loves swimming, school, and going to Razzamataz and Beavers here in Weymouth. He has small bones and will always be short, but he can do anything his friends can do, may be just differently.
"Sinead's book is all about feeling proud to be different and learning how to use your voice to make the world a fairer and more inclusive place for all. There is no better place to start this than primary school and we hope this book will help other children in Weymouth to feel proud about their differences. We want to help other children to celebrate their uniqueness rather than changing themselves to fit other's ideas of them. We are very grateful to the Weymouth Rotary Club for their support in this endeavor."
This principle seemed to our Club members very relevant in today's world. The simple message that "It's OK to be different but it's not OK to be unkind to others just because they may be different in some way' is one to which we at Rotary subscribe. I'm sure your school do as well.
Rotary Clubs like to support international aid and to act locally to support our communities. We commend kindness at home and abroad and hope that this little book will be of use to you, teachers, parents, and of course your pupils!
With very best wishes
Rose Bruce, President, The Rotary Club of Weymouth
Picture shows Siobhan and Stephen Lennon-Patience showing the book to their son Lorcan,
with Rotarians Jerry Way, Vice President, and Adrian Atkinson, Chair of the Communications Committee.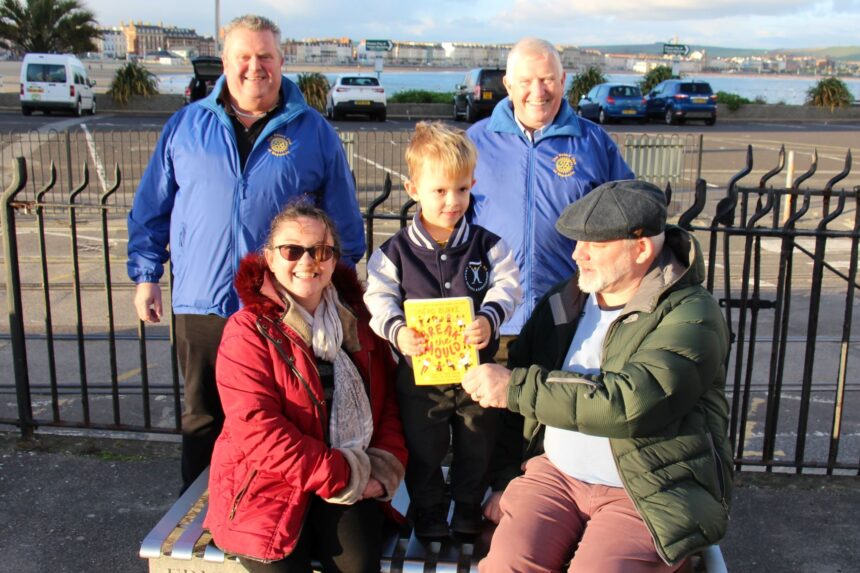 ---