Heavy machinery continues to demolish empty buildings such as the Condor Ferry buildings shown in the video below by Geoff Moore.
The dilapidated structure has been empty since Condor Ferries operated their cross channel service to The Channel Islands and France from the town. Those services were switched to Poole in 2015 since Weymouth port was deemed unsuitable for a newer and much larger fast cat ferry.
Condor's decision was a major blow to the town
The ferry service had generated around £750,000 a year of income for the harbour authority but the ferry operators had said they needed around £10million worth of investment to make the docking facilities larger. And, more up to date in order to suit the larger ferry that they were going to operate. Funds were not available. Therefore the Condor ferry service was then transferred to Poole leaving many of the harbour buildings empty.
Specialist contractors brought in
Called 'building B' on the council plans, Dorset Council, which owns the buildings brought in specialist contractors to clear the whole site.
First part of this building to go was a simpler metal structure. It was added to the main concrete and steel building. This was part of the passenger check-in waiting area until the move to other offices nearby.
The main office complex was brought down in stages. As the steel encased by concrete supports needed to be taken down in turn to prevent a total collapse. Workers chipped away slowly at the posts and as the concrete was removed, they then cut through the steels with mechanical giant cutters.
At one stage asbestos was found in the building and specialist teams were called into remove the dangerous and potential cancer causing material.
Plans for development of the whole area have been put on hold. Although the area does have potential for a whole range of uses.
Thanks to Geoff Moore of Dorset Media Service for this story and video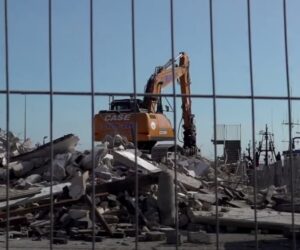 ---