Local 7-day case rates have remained stable over the past few weeks, at around 10-20 cases per 100,000 of the population in both the Dorset and BCP Council areas. Public Health Dorset data shows that COVID-related hospitalisations and deaths have also remained low in recent weeks.
In the last two weeks we've seen restrictions eased further, with more shops and businesses able to reopen and the return of outdoor hospitality. It will take a few weeks before we can see the impact of this step on our cases, so it remains vital that everyone plays their part in keeping cases low. If you're meeting others, please remember the need to maintain a safe distance and follow the guidance on hands, face, space and fresh air.
Regular rapid testing is now available to all adults in England as well as secondary school and college pupils. PH Dorset is encouraging you to take part in this if you can. If your lateral flow test shows a positive result, you and other members of your household must self-isolate. You must then book a PCR test to confirm your result. Taking part in rapid testing helps us to identify cases in people with no symptoms, and self-isolating after a positive result reduces the chances of you passing the virus on to others.
Summary of the most recent data for the Dorset Council area:
7 day case rates per 100,000 – Dorset: 12.2 (compared to 15.3 in last update on 16 April)
Confirmed cases in last 7 days – Dorset: 46 (compared to 58 in last update on 16 April)
Current COVID-19 patients in hospital beds in Dorset: 5 (compared to 7 in last update on 16 April)
Up to 18 April, 604,137 vaccine doses had been administered to people in Dorset.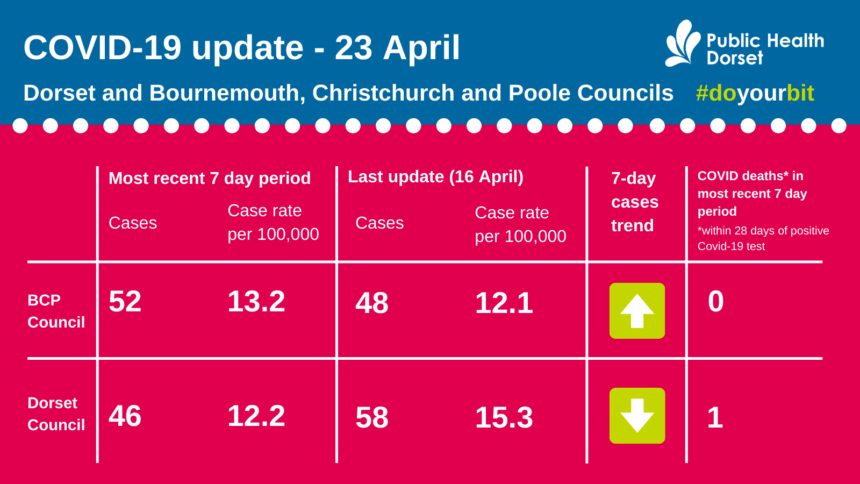 ---