Weymouth All weather and Inshore lifeboats had a busy bank holiday weekend dealing with four shouts.
Both Weymouth RNLI lifeboats were launched just after 9.30pm on Monday 3rd May to search for a yacht in Weymouth Bay which had broken free from its mooring in Portland Harbour.
When it broke free in severe gale force winds from its mooring, the skipper of the 44' yacht (which is home to the 2 people and a dog on board) had managed to get the engine started and had just enough control of the yacht, and with his sails in shreds he managed to steer the yacht through the North entrance of Portland Harbour and out into the bay.
Under bare poles, in the severe gale force winds and rough seas, the yacht was being swept across the bay at approx. 6 knots.
Once the yacht had been located, the Inshore lifeboat managed to get two crew members onto the casualty vessel and after some difficulty was able, after about twenty minutes, to assist the crew of the All-weather lifeboat to establish a tow.
By this time the yacht was approx. ½ mile from Redcliff Point and only minutes from running ashore.
Once the vessel was under tow the All-weather lifeboat managed to pull the yacht to the safety of Weymouth Harbour arriving at about midnight.
See also: Just a few hours earlier the Inshore lifeboat was also called out to assist the Police and Coastguard teams with a casualty waist deep in the water below the Nothe Fort, and the same craft had been called out to back to back shouts the previous day.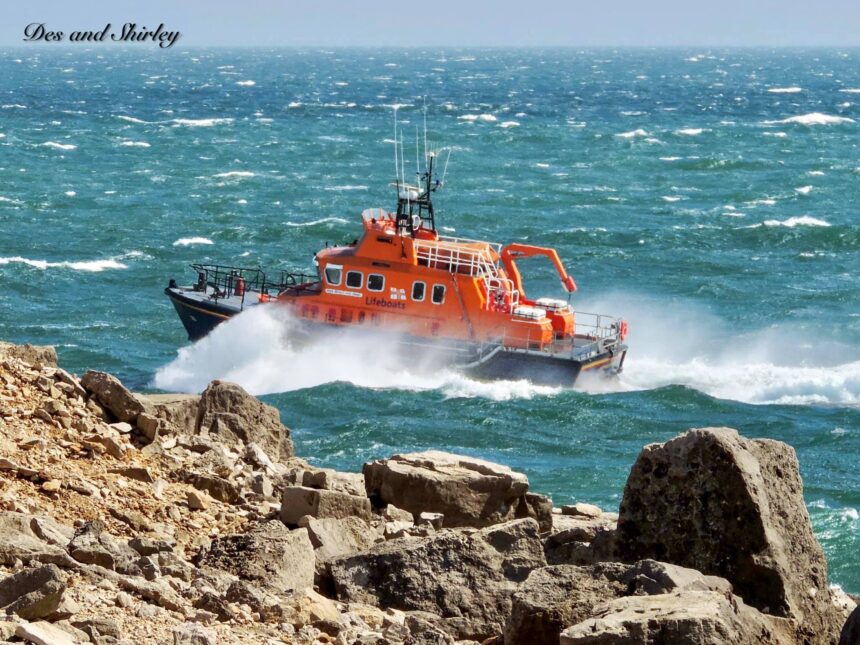 ---