The RNLI has just started an award scheme to enable the charity to recognise the efforts of its supporters and fund raisers for their efforts during the annual Mayday Mile appeal.
The RNLI Golden Welly Awards are an opportunity to celebrate the fantastic work and the amazing contribution that RNLI fundraisers bring to the Mayday fund raising campaign.  These brand-new awards are just for RNLI volunteers and staff, to recognise and celebrate the creativity, commitment and engagement that they bring to the Mayday campaign.
The awards have been given the title of "The Golden Welly Award" after the iconic yellow wellington boots that the operational crew wear.
Teresa Drage who is the Chair of Weymouth RNLI lifeboat station fund raising section, undertook to walk a mile a day for every day of May – this is no mean feat for Teresa as she needs a walking frame to help her get around.
During her walks around Weymouth, with her walking frame adorned with RNLI flags, and with her just giving page that she set up, she collected a total of £2,500.
The awards were presented on a RNLI Zoom meeting attended by stations from all over the UK on Wednesday 9th June.
Teresa was awarded a Golden Welly for "The Most Challenging Mile" category and was runner up in the "Mayday Hero" category.
Weymouth Lifeboat Management Group Chair Chrissie Payne said, "Every one of the team at Weymouth Lifeboat Station is all so proud of Teresa. She set herself a Herculean challenge, and with sheer guts and determination she completed her Mayday miles. Congratulations to Teresa, you so deserve your Golden Welly."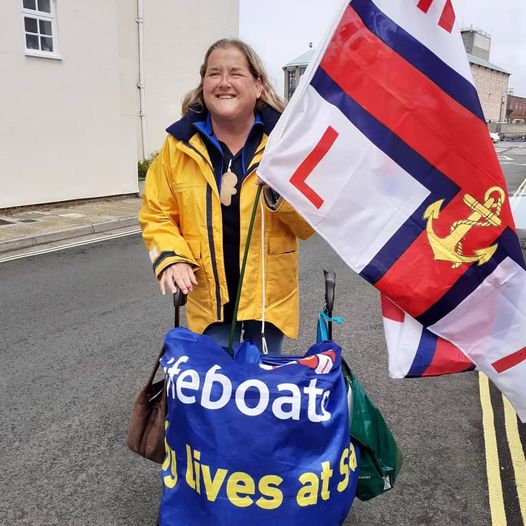 ---