Throughout the past few months we have experienced low case rates across Dorset, but in line with the rest of the country, the local situation has changed in the last couple of weeks and cases have risen quickly. The Dorset Council case rate is now 28 per 100,000, up from 11.1 last week. In Bournemouth, Christchurch and Poole, the case rate is now 57.7.
We currently still have a low number of COVID-19 patients in hospitals in Dorset. This will be closely monitored over the coming weeks, but we expect the link between cases and hospitalisations to be weakened due to the vaccination rollout. At the moment our case rates are highest amongst younger, largely unvaccinated age groups.
More information from Public Health Dorset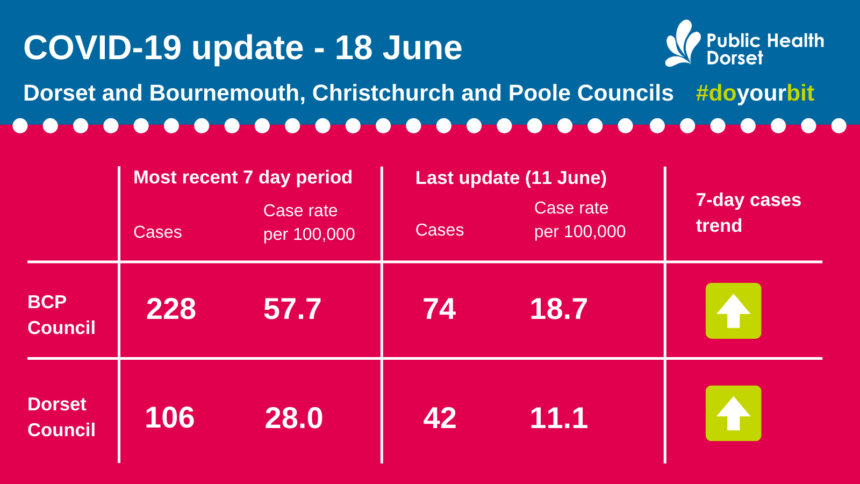 Step 3 restrictions remain in place
On Monday the Government announced a four week pause at Step 3 in the roadmap out of lockdown. You should continue to follow the national guidance on what you can and cannot do. It is expected that England will move to Step 4 on 19 July, though the data will be reviewed after two weeks in case the risks have reduced.
As a reminder, the key rules for Step 3 include:
•    You can socialise indoors in a group of up to six people or two households, including for overnight stays
•    Up to 30 people can meet outside
•    Pubs, theatres and other venues can open indoors
•    Hotels, hostels and B&Bs can open for people on holiday
•    You should work from home if you can.
What's changing?
Some rules will change on 21 June, including:
Weddings, civil partnerships and commemorative events such as wakes: the number of attendees will be determined by how many people the venue or space can safely accommodate with social distancing measures in place, based on a COVID-19 risk assessment.
Read the updated guidance on weddings.
Care home visits: for visits in to care homes, all care home residents will be able to nominate an essential care giver who will be able to visit the resident, even if the resident is isolating. In most cases, residents who go on a visit out of a care home will no longer need to isolate for 14 days when they return, based on a risk assessment by the care home.
Domestic residential visits for children: Out-of-school settings can organise domestic residential visits for children in consistent groups of up to 30 children. This replaces the current limit of six people or two households.
Keep yourself and others safe
With COVID cases in the Dorset Council area on the rise – please continue to play your part by:
•    Following hands, face, space rules
•    Meet others outdoors wherever possible and keep windows open if you're meeting up indoors
•    Book your vaccination when it's your turn and get both doses
•    Continue to take part in regular rapid testing
•    Be aware of COVID-19 symptoms. Even if they are mild, book a PCR test and self-isolate while you wait for the result.