Advice from Public Health Dorset – If you are watching the football tonight, remember hands, face, space, fresh air.
When meeting friends, it's safest to meet outside in the fresh air where COVID-19 particles are blown away.
However, if you are meeting indoors, remember to keep windows and doors open to allow fresh air in. You must also stick to the rule of 6 indoors from any number of households or in a group of any size from up to 2 households.
If you are visiting a pub to watch the football, wash your hands before you leave your house and when you return, sanitise where possible, wear a face covering when required and keep your distance from others. Ensure you also check into a venue using the NHS COVID-19 app.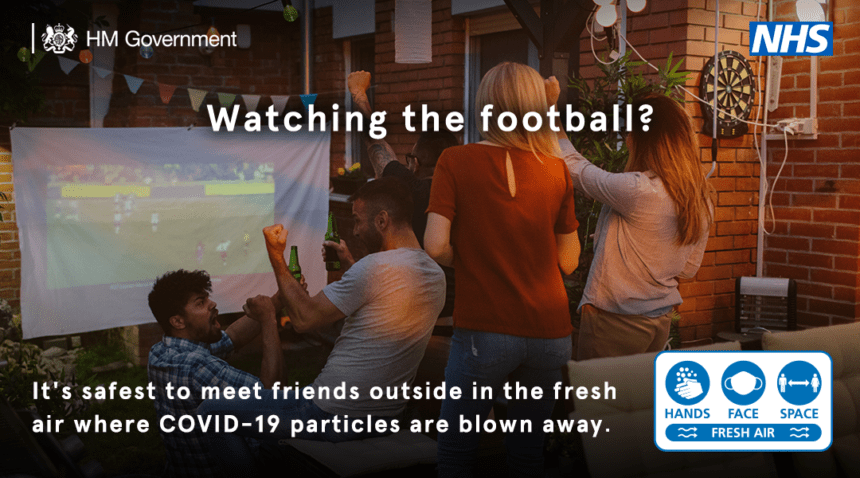 Covid-19 update – 2nd July
In line with the national picture, cases of COVID-19 have continued to increase across Dorset over the past week. The case rate for Bournemouth, Christchurch and Poole Council areas is below the England average of 160.2 but above the South West average of 129.0. Dorset Council areas case rate is below both the England and South West averages. Read more in Dorset Council's weekly update.
Contacted by Test and Trace to self-isolate
As we are seeing more cases locally, here's a reminder of what you need to do if you're told to self-isolate by NHS Test and Trace.
If you have come into close contact with someone who has tested positive for COVID-19, you will be alerted by NHS Test and Trace. The alert will usually come by text, email, or phone call, or you may be alerted by the NHS COVID-19 app.
You will need to self-isolate for 10 full days from your last contact with the person who has tested positive, and you'll be told when you can finish isolating. Self-isolation means staying at home: don't leave home to exercise, go shopping or meet friends, and don't have visitors to your home.
It's important to complete the full isolation period because even if you don't feel unwell, you could still be infectious to others. Your household do not need to self-isolate with you unless you have COVID-19 symptoms or a positive test.
Close contacts are advised to get a PCR test to check if you have COVID-19. If you get a negative test you must stay at home for the full isolation period as you could still become infectious.
More info on what to do if you are contacted by Test and Trace to self-isolate
---