Following the success in 2021 of the Sunflower Trail at Maiden Castle Farm near Dorchester, the organiser Hazel Hoskin has told KeeP 106 that they will be running the major fund raising event again this year.
The farm will create a spectacular sunflower trail which will raise funds for the DCH Kingfisher Ward and Cherkasy Hospital in Ukraine. Half the profits generated by the trail will be donated by the farm, to be shared equally between these two chosen charities. Last year an amazing £25,000 was raised for the Special Care Baby Unit at Dorset County Hospital.
This year Hazel is working closely with Dorchester Town Council on a range of additional events and activities in Dorchester, all based around the theme of sunflowers.
Visitors will be encouraged to visit Dorchester town centre from mid July to see spectacular sunflower sculptures suspended across South Street. There will also be sunflower themed shop windows across the town as local retailers join in with the activities. Dorchester Town Council are funding the town centre sunflower sculptures and organising the sunflower shop window display competition.
Dorchester's beautiful Borough Gardens will be a popular venue as it showcases a range of sunflower varieties which have been specially grown to highlight the beauty of these amazing flowers.
The main event will happen in August at Maiden Castle Farm itself, when the sunflower crop is fully grown and in all its glory. The sunflower trail created on the farm will be a highlight for many people, especially the many thousands who visited the attraction last summer.
Visitors are invited to bring a picnic and enjoy dining next to one of the largest and most complex Iron Age Hillforts in Europe. Following a visit to the Trail, access to the Maiden Castle Hillfort (which is maintained by English Heritage) is free and further exploration is suggested for a different viewpoint of the Sunflowers and panoramic views of the Dorset Countryside.
Hazel Hoskin said:
"It was fantastic seeing the thousands of people who visited the farm last year to experience the sunflowers. We heard about many examples of people making special memories there and with their support we raised a lot of money for the special care unit at DCH. With all the sunflowers in the town centre we think this year will be even better and we hope that even more people will come along and join in the excitement."
A member of Dorchester Town Council said,
"It is brilliant to be able to work with Maiden Castle Farm and shops across the town to create such a great attraction and raise money for local and Ukrainian causes. We have all been devastated to see the events unfolding in Ukraine and the sunflower is the Ukrainian National flower too. All of these sunflowers are going to be so beneficial for local bees and biodiversity too."
Tickets will go on Sale in July 2022.  To keep updated follow us on Facebook https://www.facebook.com/MaidenCastleFarm and website www.maidencastlefarm.co.uk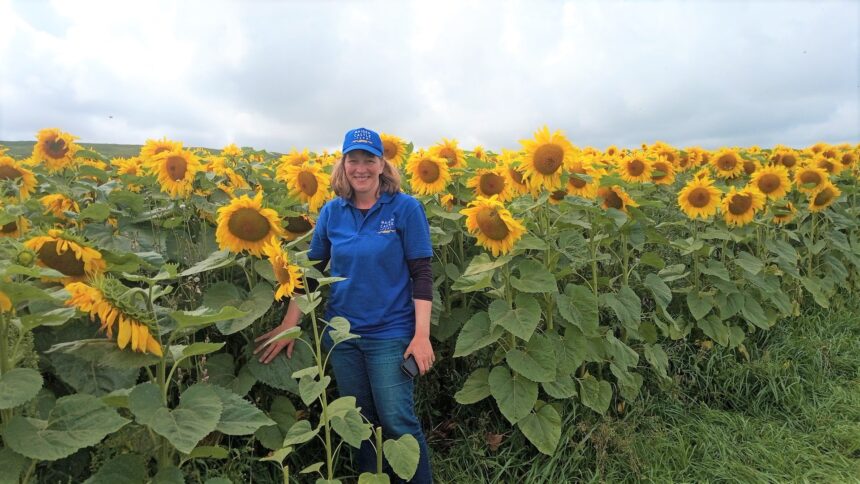 ---