Pupils from Damers First School brought the fight against plastic waste to the heart of power last week as they lobbied MP Selaine Saxby, North Devon (Chris Loder MP, West Dorset was unable to attend)  to take action against plastic pollution on The Big Plastic Count's Youth Empowerment Day.
After learning about the role of MPs and why talking to your MP is important, the pupils created a plastic themed collage to give to their representatives then set to work lobbying their MP for more action on plastic waste in a face to face meeting in Parliament. The pupils joined students from nine other schools from across the country who travelled to London to raise the alarm to their MPs on the UK's plastic waste problem.
The trip to parliament came after pupils took part in The Big Plastic Count, a citizen science project launched by Greenpeace UK and non-profit organisation Everyday Plastic held between the 16th and 22nd of May this year. The count saw over 100,000 households, schools, community groups and businesses across the UK count their plastic packaging waste, record the different types they throw away and enter their results into the campaign website. The campaign aims to convince the government to take more action to cut plastic production, ban plastic waste exports and transition to refill and reuse alternatives which are affordable, accessible and appropriate for all.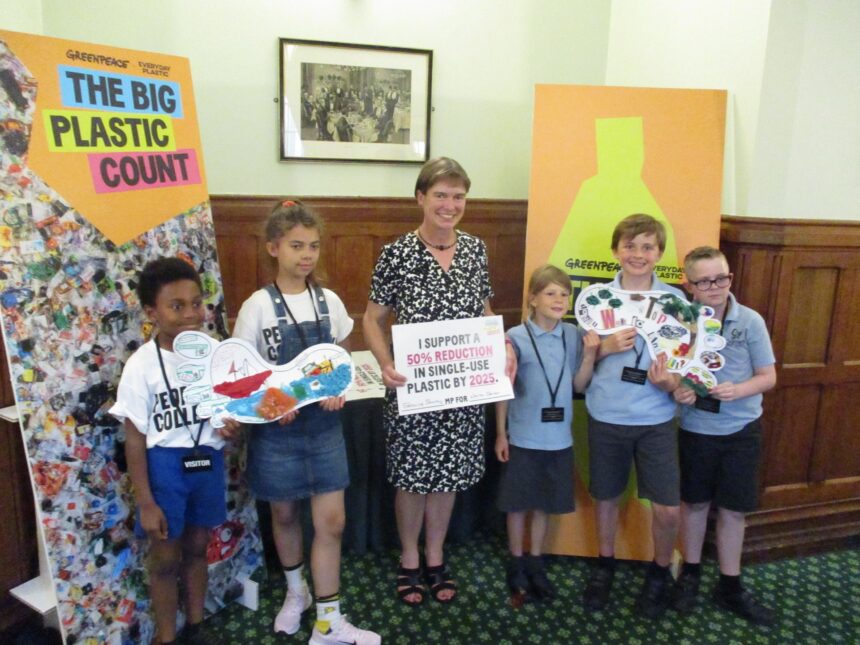 Catherine Smith, Headteacher said: 
What a privilege it was to listen to our children, speaking from the heart and sharing their strong opinions on the plastic waste problem during their visit to Westminster. To walk into the Houses of Parliament and to hear about what happens within is powerful in itself but to then be joined by so many MPs and to have the opportunity to share your views and your passions around a subject that you feel so strongly about, offered a rare insight into a world that our children don't often witness first hand. Their understanding of how democracy works and the many processes that are needed to bring about change was enhanced during an invaluable conversation with Selaine Saxby and our children returned more determined than ever to ensure that their ideas and suggestions to reduce plastic waste are heard.

Edd Moore, Eco Coordinator said: The children from Damers First School were empowered by their time in Westminster to take action against plastic waste. They spoke  with knowledge, passion and determination to make their points heard when speaking to Selaine Saxby MP. The children left the room buzzing with pride knowing they had spoken to someone who could use their ideas  when making a speech in the House of Commons on Plastic Waste.
Maja Darlington, plastics campaigner at Greenpeace UK said:
It's hugely inspiring seeing these young people get involved and push their MPs for change. Their hard work and enthusiasm has really brought home the problems around the plastic crisis to some of the most powerful people in the country.
Plastic waste is everywhere – the problem is huge and the challenge of fixing it can feel overwhelming. But as these students told their MPs, there are solutions out there – we just need our politicians and big businesses to grasp them. Whether that's moving to refill and reuse products that are accessible to all or introducing targets to cut plastic production, by taking the right actions we can finally get a grip on plastic waste.