Litter Free Dorset is delighted to announce that The Great Dorset Beach Clean is back for its 33rd year! This year's event will take place from 15th – 23rd April, starting on the last weekend of the Easter break. The perfect way to end the school holidays!
17 beach cleans are happening along the Dorset coast from Lyme Regis to Christchurch, organised by local community groups, residents, and businesses.
Emma Teasdale, Litter Free Dorset Coordinator, said: "The Great Dorset Beach Clean is the perfect opportunity to enjoy Dorset's beautiful beaches while joining together to help the environment. We appreciate anyone who wants to make the most of our incredible coastline and help keep our beaches clean. It's fun, free and family friendly – so grab your pals and get down to the beach!"
Last year's Great Dorset Beach Clean saw more than 200 amazing people take part in 17 cleans across the Dorset coast. By working together volunteers cleared 100 bags of rubbish, as well as bulky items such as oil containers, tyres, a door, and ironically a bin!
Litter and plastics left on the beach are likely to end up in the sea, causing considerable harm to our marine environment and affecting bathing water quality, as well as being unsightly for beach visitors! Plastics will remain in our environment forever, gradually breaking down into smaller and smaller pieces which can be ingested by wildlife. We produce around 400 million tonnes of plastic waste every year, a lot of which gets left in the environment and only a small percentage – less than 10% – is ever recycled.
By taking part in this year's Great Dorset Beach Clean, you'll be working alongside other brilliant volunteers to keep Dorset's beaches beautiful for everyone to enjoy.
Lizzie Prior, Beachwatch Manager at the Marine Conservation Society, said: "The Great Dorset Beach Clean is a fantastic project at helping us tackle issue of litter. At the Marine Conservation Society, we've been collecting litter data for almost 30 years. It has helped us inform our UK Governments to introduce policy such as the 5p bag charge and a ban on plastic cotton bud sticks. Getting involved in beach cleaning projects like the Great Dorset Beach Clean is a fantastic opportunity to get outdoors, give back and protect our ocean."
How to get involved:
Check out Litter Free Dorset's social media platforms to sign up for an event near you! Remember to spread the litter free message by sharing your clean-up pics on social media, using the hashtag #GDBC23 and tagging @LitterFreeDorset into your photos so we can share your content.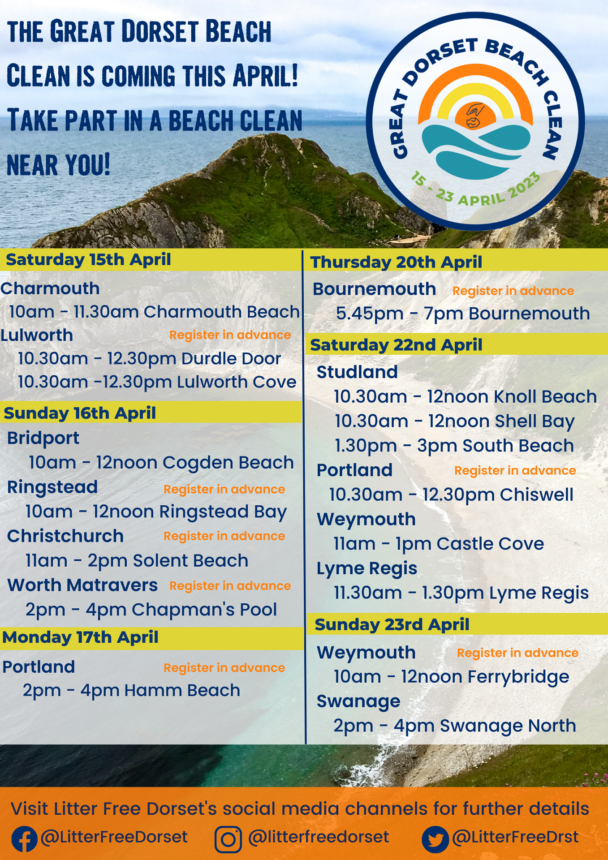 ---