Monday March 18th, 2019
It's the final countdown!
It's just 14 days until the new Dorset Council begins to serve residents across the county.
On 1 April, Dorset Council will replace the existing district and borough councils (East Dorset, North Dorset, Purbeck, West Dorset, Weymouth ... read more ►
Sunday March 17th, 2019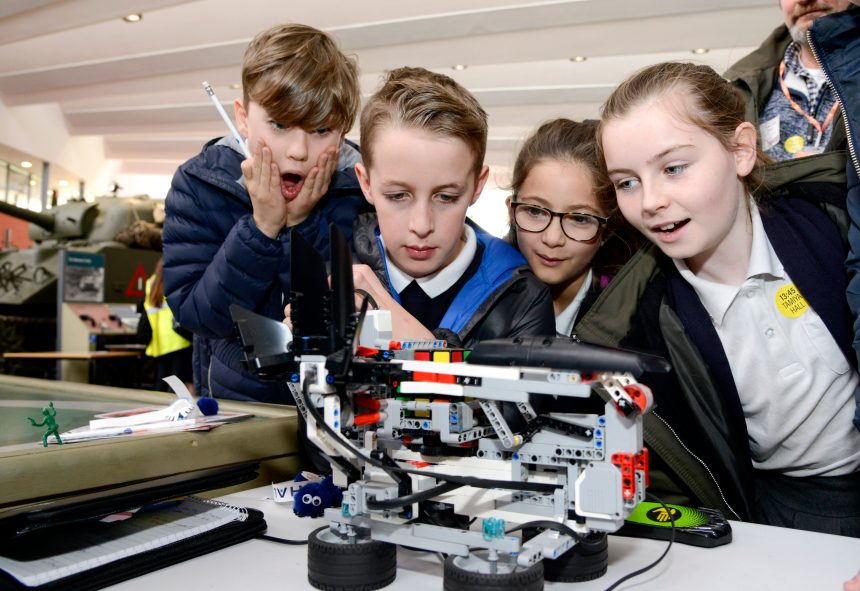 The first Big Bang science and engineering fair for Dorset children was held at the Tank Museum on Wednesday 13 March.
1,700 primary and secondary students arrived to see over 30 exhibitors showcasing the latest use of technology and science ... read more ►
Sunday March 17th, 2019
A fire crew from Dorchester station was mobilised to a fire involving a chimney at a domestic property at Heath Cottages in Puddletown on Sunday evening at approximately 19:55.
The attending crew arrived on scene and quickly confirmed that the ... read more ►
Thursday March 14th, 2019
Dorset County Hospital is calling for nominations for its annual staff awards – The Going the Extra Mile (GEM) Awards.
The GEM Awards scheme recognises outstanding members of staff, volunteers and teams who have exceeded what is expected of them ... read more ►
▼ On air now...and later ▼
Please refresh your browser for the latest info
Military Bandstand
The best in military band music presented by Jim Davis
Kick Up The 80s
with Geoff Dorsett
KeeP Overnight
Music, News and the Listen Again File with features and interviews throughout the night
KeeP Breakfast
News, weather, travel and great music with Clive Rawlings
What's On
in West Dorset, courtesy of Dorchester TIC
visit-dorset.com
Click one of the buttons below for a PDF of events or select 'What's On' from the menu above
Check out our new programmes:
Military Bandstand – by popular request, the best in military band music presented by Jim Davis on Tuesdays at 7pm
Three new shows from Geoff Dorsett –
Solid Gold 60s – Mondays 7pm
Kick Up The 80s – Tuesdays 8pm
Supersonic 70s – Thursdays 7pm
Then there's
John's Alphabet – Wednesdays at 1pm
presented by John Williams
and
Stafford's World – Saturdays at 5pm
with Mark Stafford
Need something to listen to during the night?
Try this…
KeeP Overnight – Music, News and the Listen Again File with features and interviews from midnight till 8am
Dorchester weather
10°
broken clouds
humidity: 81%
wind: 4m/s W
H 7 • L 7
Weather from OpenWeatherMap
How you can support KeeP 106
Become a Friend Of KeeP106

Volunteer to help run the station

Advertising and Sponsorship
How can KeeP 106 help your small business
By advertising or sponsoring a programme you can make local listeners aware of what you have to offer.
What will it cost?
Our rates are very attractive. Please contact us for more details.




You will also be supporting a not-for-profit company that will, in turn, support local organisations and charities.

If you have a not-for-profit event taking place locally, we will promote it free of charge in our What's On diary.
Contact KeeP 106 (also see our Contact page)
Click the appropriate email address below to send a message via your email app or click the 'contact form' link
If you would like to become a member of KeeP 106 please download the membership application form which you can print, fill in and return to us. Your membership fee contributes towards the substantial running costs of the community radio station.
We need many volunteers including presenters, technicians, production assistants, fundraisers and local event reporters. Full training will be provided for the roles of presenter and technician. If you are interested please get in touch.
We also need advertisers and programme sponsors. If you are a local business and would be interested in advertising on, or sponsoring the new community radio station for Dorchester, or would like to be involved with the station in some way, please get in touch.